Quirien en Isabelle doen mee aan het project Peddle Power. Zij verblijven in Stolberg in gastgezinnen. Hun indrukken beschrijven ze in een blog. In het Engels, want dat is de voertaal in het project.
Today, first we met up before going to school. In the school we followed a traffic lesson. Reading different texts on cycling every group had to present a postyer with the main conclusions on the impact of cycling on the environment, politics and of course your health. After class we went to the bakery and ate some german bread with our friends in Stolberg.
PE is fun
We also followed a Physical Education lesson. In the Physical Education lesson we learned about muscles, sports and calories and we played soccer for a bit which caused some DOMS (muscle soreness) to some.
We had a lunch break in the school canteen. In Germany students can have a hot meal in between the lessons. We ate pasta with tuna fish and, if you wanted, you also could eat a colourful yelly pudding.
Riding bikes at last!
Then we went for a ride on the bike at the schoolyard. We had to ride a circuit with one hand and after that holding hands with your friend. Another thing we had to try was to drive as slowly as possible.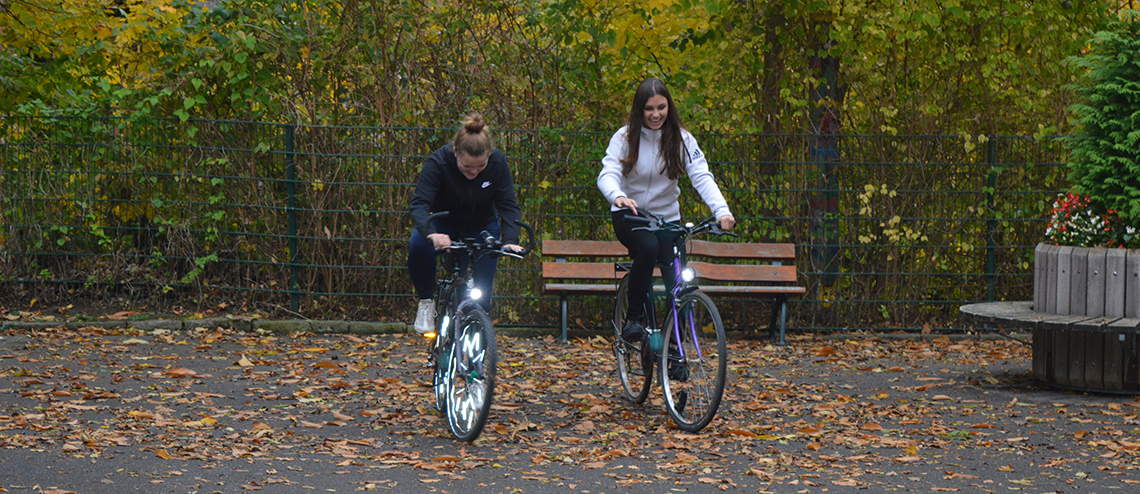 After school first we went with a group to one of the host families where we talked a lot. In the early evening we all met at a restaurant called 'By George' where we enjoyed our drinks and pizza or schnitzel.
Isabelle & Quirien