We started the day with going to school, the bus left at 5 in the morning. We went to Calais and took the ferry to Dover, it was a lot of fun, and almost everyone had Starbucks. Then we took the bus to Leamington Spa but we stopped at Leamington welcome break and I had Burgerking. Then we took the bus to Leamington spa. There we had a tour around Leamington Spa, and then we met the host family. The day was a lot of fun. Maxim, v2at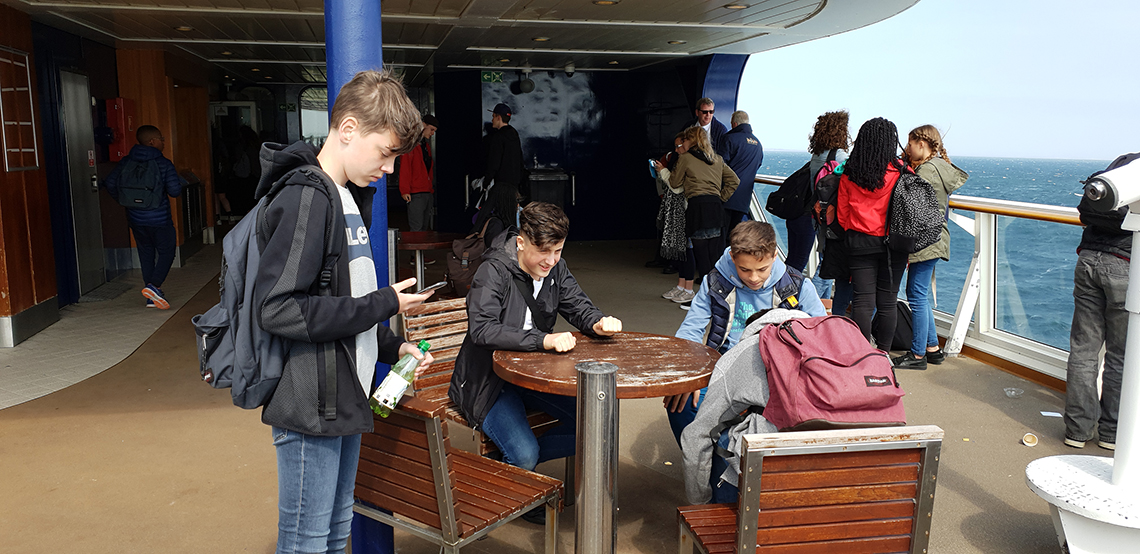 Our journey started at 04:30 (most of us were very tired, but very excited as well.... Sooo I guess it was worth it!!), when we had to gather in front of our school. There were lots of people and you could heer the rolling of suitcase wheels everywhere! We had to be there in time so we could leave around 05:15 to Calais, because our ferry would leave at 10:30 so we had a bus drive of approximately 5 hours. To kill the time, most people talked with each other, slept, took selfies, ate the food they had brought with them, played games on the phone or just listened to music. We ourselves, mostly talked and played games with one another and time went by surprisingly quickly, so before we could blink with our eyes we were in Calais, and had to show our passports / ID's to the border control (it didn't take as long as we thought, this trip seemed to go surprisingly fast, hurray!!). We then had 30 minutes until our ferry would leave so we could do what we wanted (most people used it as a very much needed pee pause, but we just walked around). When it was time to go on the ferry, all people had to come back to the coach and after the teachers finished counting to see if everyone was present, the coach drove on the ferry. It took 2 hours for the ferry to get from Calais to our destination, but due to everything that was on it, we didn't have to get bored! There was an Starbucks, a little shop, video arcade (although I don't think anybody went there...) and you could also go outside! We had much fun on the ferry (we think it was waaaaaay better than the bus) so time went by, and before you knew it, we had arrived at our destination. Last year, we went there as well (our trip to Canterbury, remember?!) we saw the white cliffs of Dover... AGAIN, sooo cool!
We drove for 2:30 hours (Lai fell asleep, hahaha. Some took pictures of her... Poor Lai) until we arrived at Wheatley. There we had a break and we went to the toilet, ate something, drank something and then went back to the bus. After we had cleaned the bus, we drove to the language school in Leamington spa. When we arrived we had to take our lagguage bags and went to a park nearby. We stayed there for half a hour and after that we got a tour around Leamington Spa, it was very interesting and nice since the weather was so good.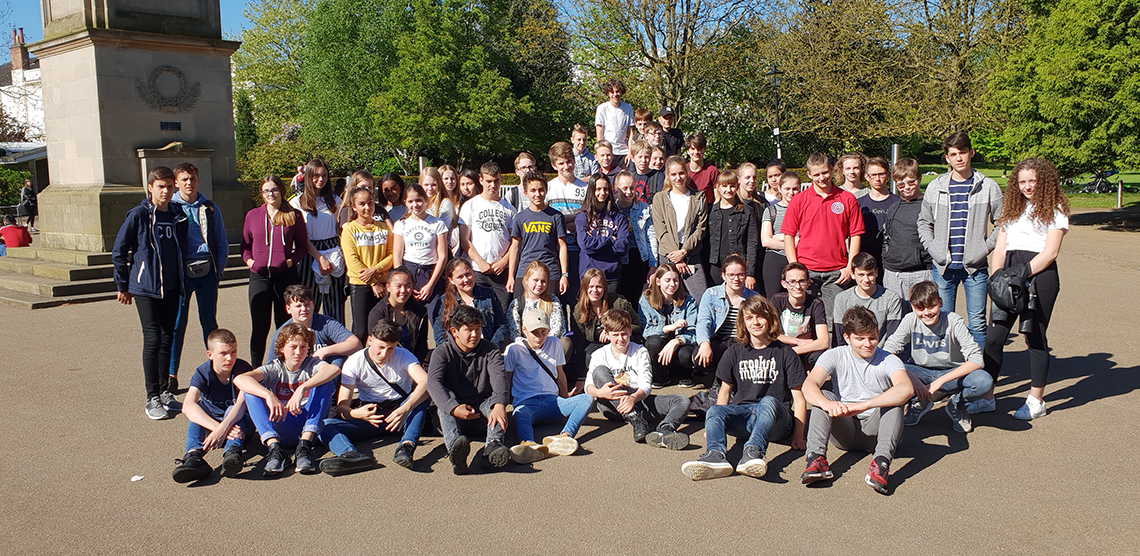 You could really see how different the buildings were compared to the ones we are living in ourselves! When our guide finished her tour we went back to the school en waited for our host families to come and pick us up. We were so nervous about what they were like, if they were nice, what we would get to eat (I mean, we were very hungry after a day like this...), etc. Now, I don't get why we were so nervous anymore, the host families are nice, and friendy and the food was (in our case) very yummie!! So just to conclude this all: today was surely a day full of impressions and new information (all very positive) and we can't wait for tomorow!!
Kamille, Detta, Noor and Lai (v2bt)