On day 4 of their visit, our students went to Warwick Castle. Amazing!
In the morning we woke up at 7:00 and had breakfast. We had some cereals and toast with chocolate milk. Then we made ourselves ready for the language school. At 8:45 we went to the language school by car and around 9:15 the lessons began. In the lesson we did a few nice games, like word guessing and we talked about social media. Then we had a little break of 15 minutes and went to the park near the school. At the park we walked around a bit and ate a little. After that the other part of the lessons began. At 12:30 the English lesson ended and we had an half hour lunch time. We went to the park and ate our lunch. At 13:15 the coach arrived and we went to Warwick Castle. When arrived at the castle we saw the castle at first from a distance. We got instructions from our teachers what we could do at the castle. Then we walked to the a park near the castle and got some information from Louisa about the history of the castle and had a little quiz. After that we had some free time at the castle that we could spend. We first went into the gardens of the castle and made photos and walked around a little. We saw some birds and funny trees in the garden. After that we went to the castle itself and walked there. We had some really nice viewpoints on top of the castle and made more photos. After that we went down again and some of us bought a souvenir at the souvenir shop. Then we all came together again as a group and walked back to the bus. Some of the pupils got picked up there by their host family and some went back to the language school by the coach. We went by coach and when we arrived back in Leamington again, we were brought by our host family home by car. We then had other pupils arriving at our house because their host family had a dinner with somebody. We went together them with them to a playground near our house and relaxed their little. At 19:00 we had to be back because we had dinner. At dinner we ate lasagne and garlic bread and some of us had some apple strüdel as dessert. Then the others were picked up at 20:00 by their host family again. We then went with our host wife to the local supermarket and did some shopping for tomorrow. Then we went back home relaxed a little and went to bed.
Yannick and Bas, V2bt
---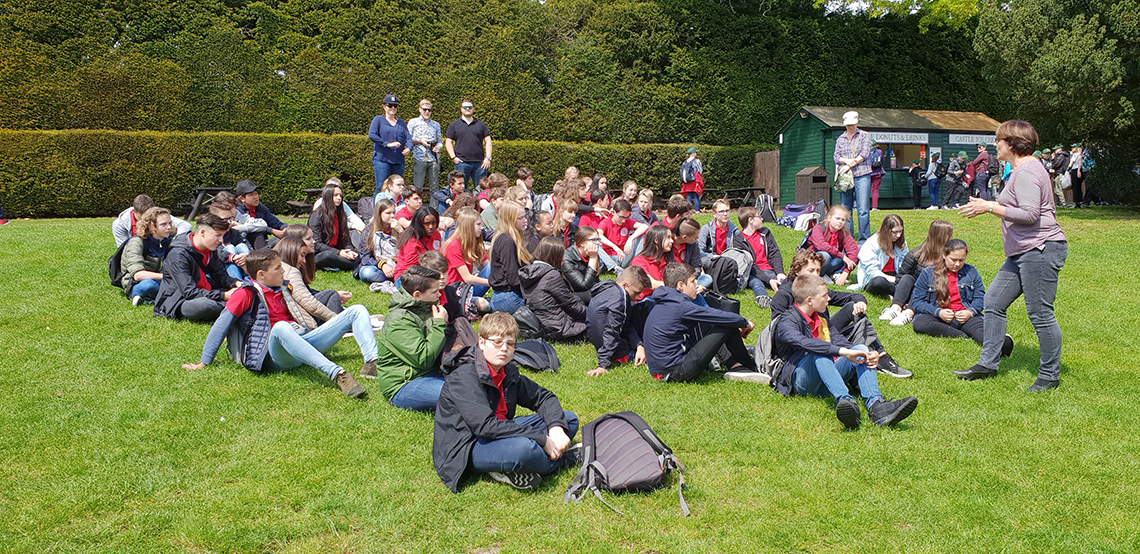 We woke up around 7. Then we had breakfast and prepared ourselves for the long day coming. As usual we went to school. There we all got divide into our separate groups and had our lessons. After we had our lessons we went to Warwick Castle that is a castle very near Leamington Spa where some of us were staying. Of course we went by bus, even though it's only a 10 minute drive. When we arrived at the castle we got out of the bus and walked into the Castle grounds. After we played a little game of "True Or False" we all went our own ways. You could go for a walk through the Castle and see all of its history and old artefacts or you could watch a bird show. There were also archery and Horse shows, but if you wanted to relax that was fine as well. Warwick castle is a beautiful medieval castle. There are reinforced walls around a square with grass. You can climb on all of the towers around. It had beautiful views on the surrounding environment. The great hall was restored really nicely restored. There were some wax dolls that looked really realistic. There were many weapons. There was also a really beautiful desk with lots of detail that was made with only one tree. At 17:30 we all went back into the bus to the school. In the end I think it was a really nice day.
Oscar, Tibo, Rick & Tim M. (V2BT)
---
On Thursday 17 may we started the day with a delicious breakfast from our host families. Then we were brought to the school were we had two lessons of one and a half hour. In the lessons we talked about the problems of countries in war. This was all expressed in a poster which we had to make ourselves. After the lessons we went to the castle of Warwick. This was a very big castle. It was very beautiful and there were cool peacocks. We had a lot of free time to spend in the castle and outside the castle. From this we could see how it worked in the earlier times. The castle had beautiful gardens which were very big. We went to the coach straight the school where we were picked up by the host families. We enjoyed the day very much.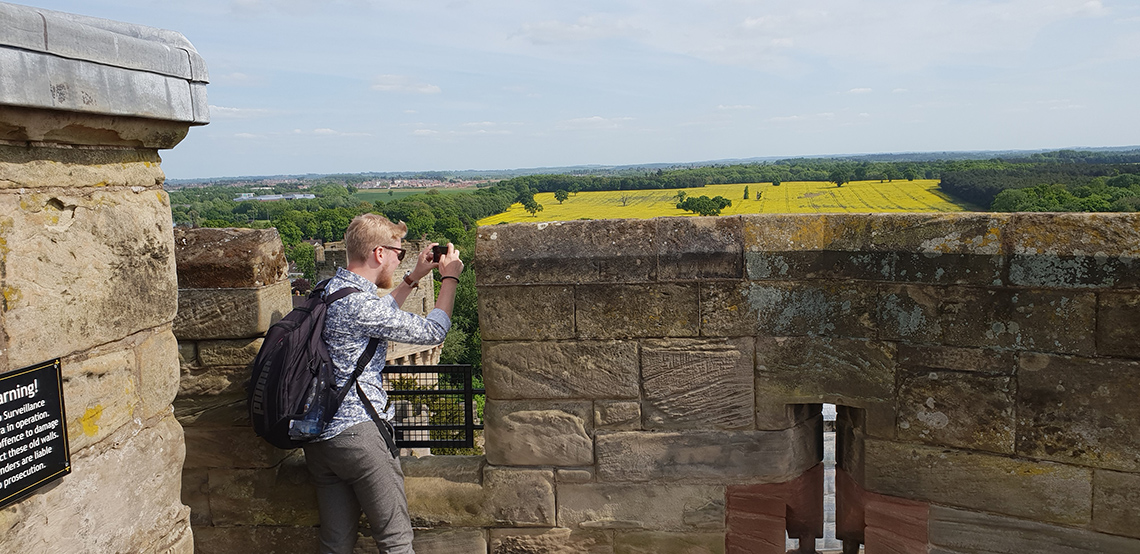 ---
Today our host families dropped us off at the language school at 9 o'clock, there we had a lesson of 1,5 hour, 15 minutes break and then again a lesson of 1,5 hour. After the lessons we could go to the park and we had our lunch there, at 1 o'clock we went with the bus to Warwick Castle. First we had a quiz and that was fun, after that we had until 5 o'clock free time. The castle was really nice and you could see a lot of different things over there, there was a bird show and also horse races. At 5 o'clock some of us got picked up by the host families, the rest went to Leamington Spa with the bus and were there until 7 o'clock. They did there some shopping and they ate there. We also packed our bags because tomorrow morning we are leaving.
Jill, Aimée and Lûke (v2at)